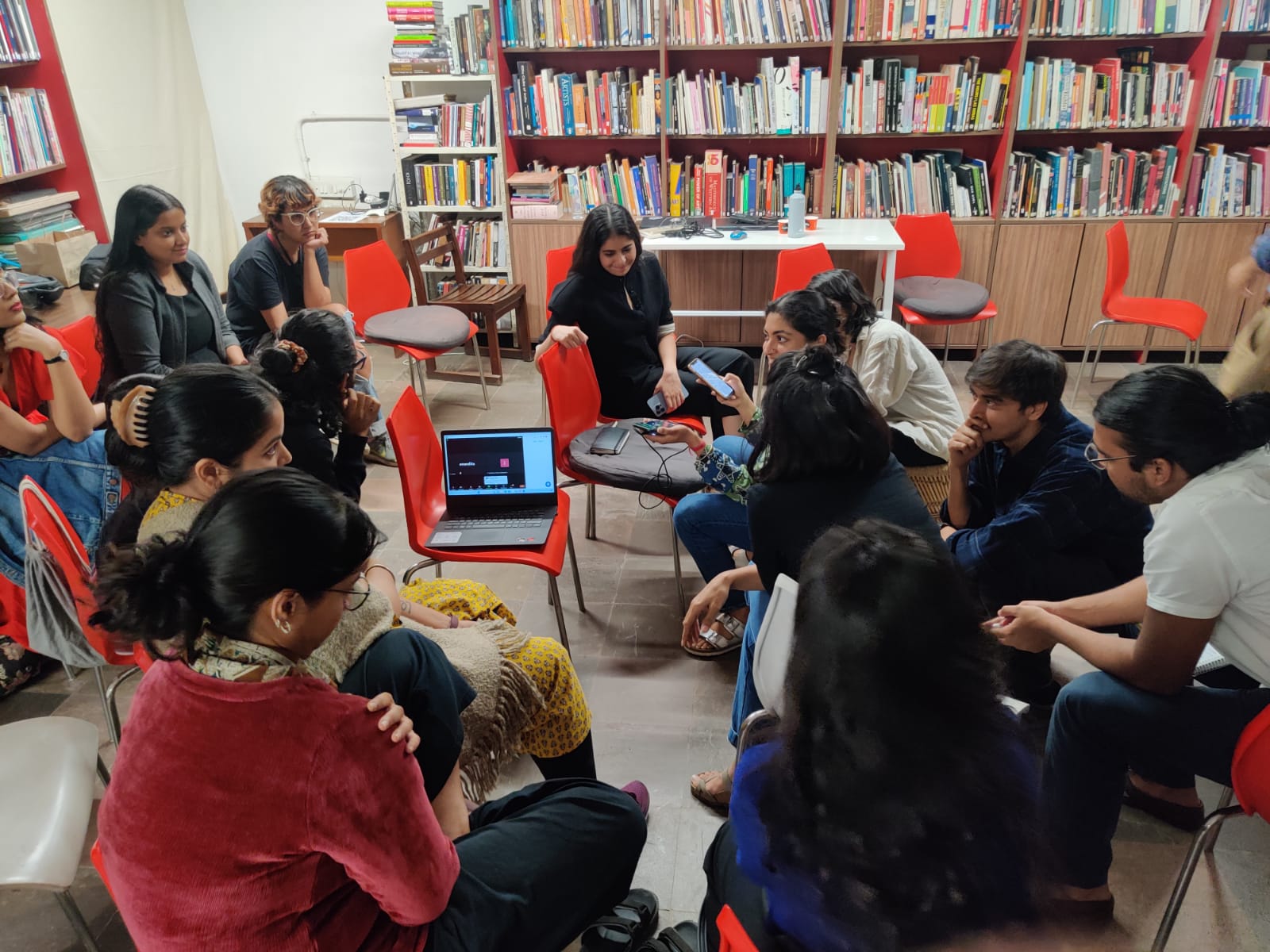 -out-of-line- is a collaborative practice invested in creatively participating in the socio-technical experience of communication. Since August 2019, -ool- has been organising interventions in and around telecom infrastructures with an evolving cohort of artists, designers, researchers, programmers and musicians. Recent work has involved playing with the form of invitations to think together about connctedness and publics.
* -out-of-line- are Aasma Tulika, Radha Mahendru, Sonam Chaturvedi, Suvani Suri and Kaushal Sapre
selected works (-out-of-line-/ Kaushal)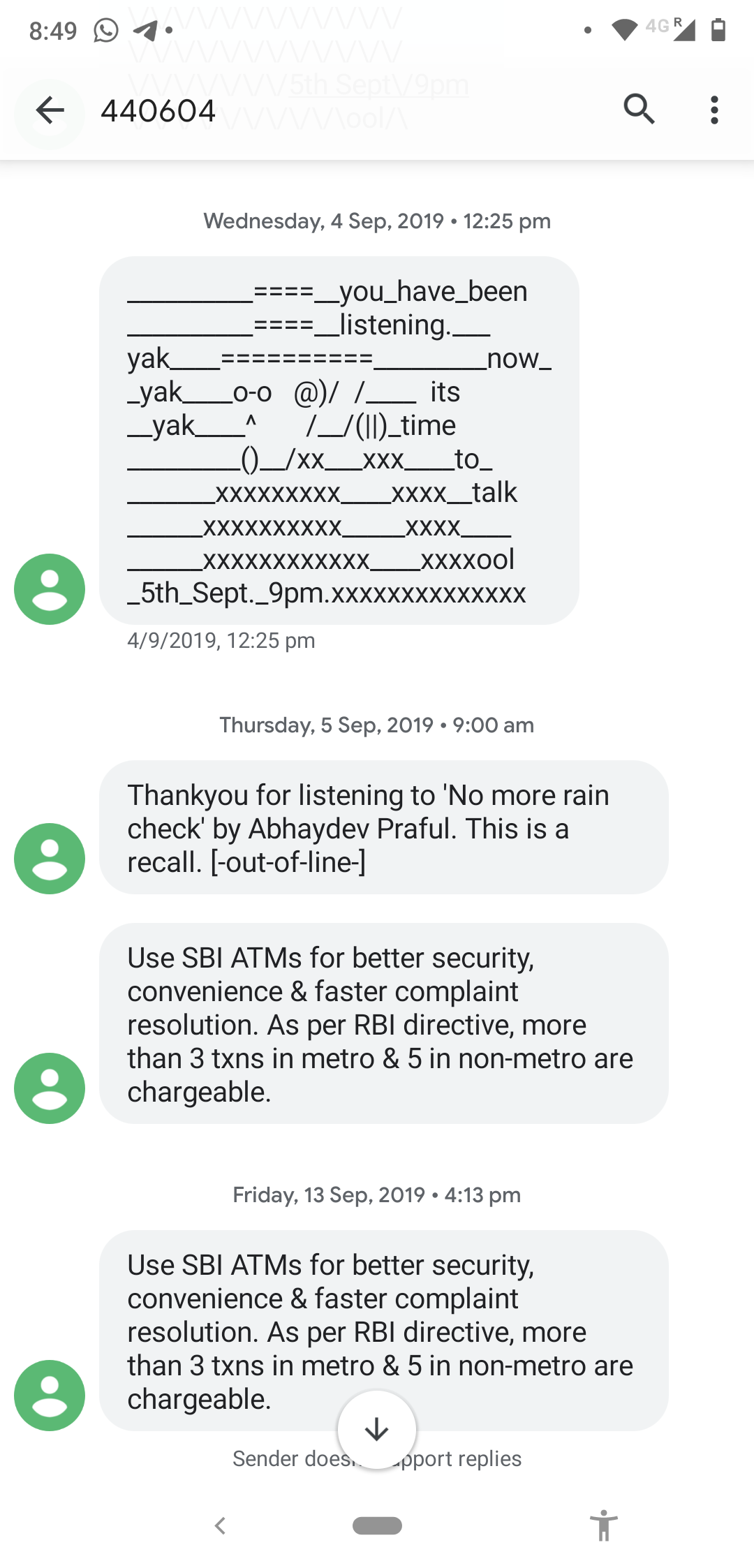 time to talk was a minor logjam on telephone lines that sustained for five minutes at 9 pm IST on 5 th September 2019. It was an outcome of an algorithm that was designed to automatically add participants into a conference call until the protocol limit set by the telecom service provider was reached. The call connected 206 subscribers from –out-of-line-'s phone number database.  Recordings of the incident capture a cacophony of human and machine voices, metro announcements, keypad tones, call center catchphrases, beeps, boops, answering machine responses, street sounds, static crackle – until a ringing, rhythmic feedback hum of the resonating telephone lines themselves drowns everything out.
home_for _a_while was a local area WiFi network installed as part of the exhibition real time tactics in 2019. It was openly accessible within and around the exhibition premises. It hosted texts, bootleg android games, how-to manuals, notes and other research material compiled by  -out-of-line-.
Three days into the exhibition, on 15th December 2019, protests erupted in various parts of Delhi against the enactment of the Citizenship (Amendment) Act. The state responded with localised internet shutdowns, among other forms of violence, to counter the protests. In retrospect, the experience of exhibiting home_for_a_while was almost a rehearsal for a process that would then break out of the white cube space and on the streets into into inquilab network.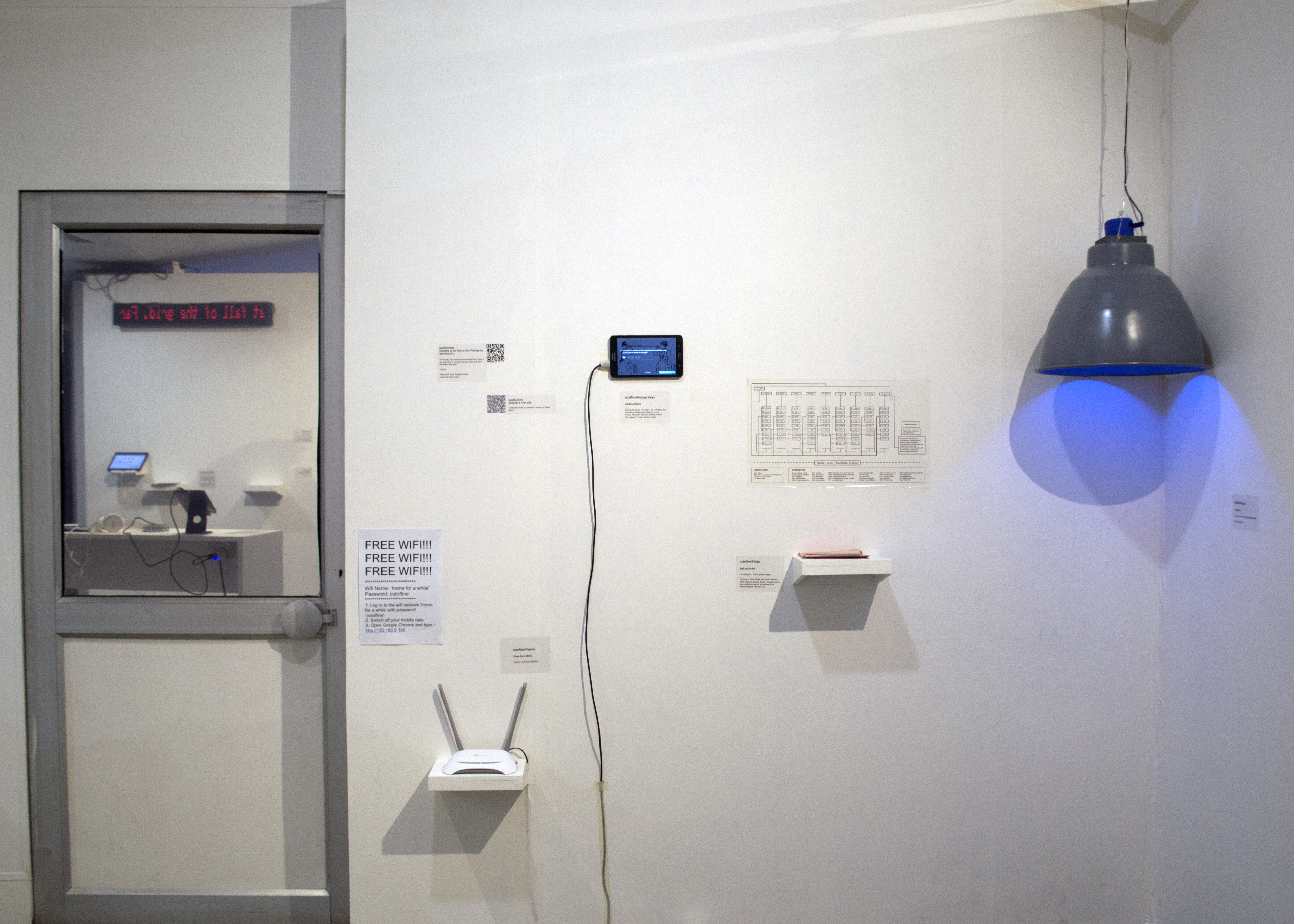 Hello from across the wall were a series of text messages sent by -out-of-line- to 10,000 phone numbers in the subscriber database of Rockbund Art Museum, Shanghai. These included ASCII drawings, google translate poems, gifs and gentle reminders to say no.
Developed in response to an invitation from the curatorial framework Powerlines Cicada Metal Drawl as part of the season 3 of Curatorial Practices in Asia, 2021.
-ool- gathers
-ool- gathers is a series of assemblies initiated by -out-of-line- at Foundation of Indian Contemporary Art, Delhi as part of their Public Art Grant. Previous gathers include :
-ool- gathers #1: Warm Wavelengths
film screening and discussion with director Anandita Bajpayi and cinematographer Jyothidas KV
-ool- gathers #2: Placeholder for a whale's itch
album, immersive listening environment and discussion with Alla Semenovskaya, Aarushi Surana, Aasma Tulika, Lantian Xie and Kaushal Sapre
-ool- gathers #3: GROTESKKBASILISKK! MINERAL MIXTAPE
video screening and discussion with Mochu
-ool- gathers #4: an echo too late
work presentation and discussion with Merve Ertufan
-ool- gathers #5: Callscapes
playlist, prompt and gathering organised by first draft
-ool- gathers #6: If you don't hear the six-legged dog, will it matter?
leapchat performance, DJ set, discussion with Merv Espina
-ool- gathers #7: Towards a Cartography of Mapping Frequencies and Wavelengths
occupation of telecom networks in the West Bank, research presentation and discussion with Jumanah Abbas
-ool- gathers #8: Jangayek.txt
anti-caste songs in Bhojpuri by zeropowercut (Raju Ranjan and Piyush Kashyap), discussion
-ool- gathers #9: Mobile Girls Koottam
table-read of a play and discussion with Samyukhta PC